Anais
Friday February 16th, 2018
When change is difficult, it's often called 'resistance'. 
Difficulty to change is caused by old habits of thinking that show as resistance, stress, grief, sadness, tiredness, illnesses, fear, anger, powerlessness… 
Instead of fighting resistance, PSYCH-K© creates a receptive, "Whole-Brain State" that dramatically reduces resistance to change in the subconscious mind.
Transformations are achieved through simple, well-structured processes and whole-brain-exercises that help you communicate with the subconscious mind. Through aligning  the three levels of consciousness transformation becomes easy, rapid and sustainaible:  
the conscious mind is clear about the change you want to make (goalsetting, free will, choice making)
this is aligned with the driving power of beliefs in the subconscious mind (hidden beliefs, values, life experiences,…)
the relevance of your goal is checked with your inner wisdom (the super conscious mind).

This is a unique and direct way to re-write subconscious beliefs.  As a result, the subconscious mind becomes your alley in life (contrary to the popular idea about the subconscious mind as self-sabotageing). 
As Bruce Lipton explains: "When we re-write our beliefs life becomes a self-fulfilling prophecy instead of a daily struggle."
PSYCH-K© was originated in 1988 by Rob Williams, M.A. It was a response to his insights that typical counseling and psychotherapy techniques, which rely almost exclusively on talking, insight and motivation, take too much time and seldom create real and lasting changes.
While "psych" is often used as an abbreviation for "psychology," in this case it has another meaning. The word psyche goes back to the Greek word ψυχή (psyche) which means "life-force", also referred to as mind, spirit, or soul. 
Rob Williams describes PSYCH-K© as a spiritual process for self-realization with psychological benefits:
spiritual meaning connecting to the soul, self, values, oneness

with psychological benefits like peace of mind, well-being, joy, ease, success, fulfilment,….
Rob has spent his life developing and improving PSYCH-K©. His background in both business and psychotherapy create a results-oriented approach to self-realization. This modality combines contemporary insights from neurosciences, epigenetics and stress management with ancient wisdom about 'wholeness' of mind, body, soul.
Click here for neuroscience research about the Whole-Brain State.
---
Change is difficult because most modalities rely on insights, positive thinking, motivation and willpower.
For easy and lasting transformation we must change what is in the subconscious mind. With PSYCH-K change becomes easy.  
Rob Williams founder of PSYCH-K
---
Including a demonstration on stage. It is part of the DVD published at that time by Rob Williams and Bruce Lipton.
"PSYCH-K© is a set of simple, self-empowering processes to change your beliefs and perceptions that impact your life at a cellular level. ​It is one of the most important, efficient, effective, and rapid change processes that is available on this planet today."  –  
Dr. Bruce Lipton in 'The Biology of Belief'.
For the full lecture of "The Biology of Belief" (2,5 hours): 
Click here 
For a short explanation about the power of beliefs: 
Click here 
How a lifelong friendship between Rob Williams and Bruce Lipton started: 
Click here  
Interviews before and after, including measurements of results.
Click on the picture to start the video. 
Want to know why PSYCH-K is different?
The secret of the effectiveness of PSYCH-K comes from integrating 3 elements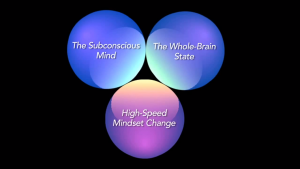 Rob Williams, originator of PSYCH-K explaning "What is a PSYCH-K Balance"; "Some important elements of PSYCH-K"; "What does the term 'PSYCH-K' mean"